Craig Miller – B. Soc Sc (Counselling), Registered Counsellor (ACA), Cert. KaHuna Bodywork, Cert. Reiki I & II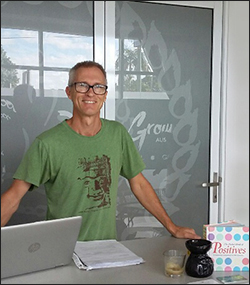 Hi, I am Craig, director of Awakened Healing Group and manager of Sacred Ground Australia on the Gold Coast, Queensland. I am an experienced qualified Counsellor, KaHuna Bodyworker and Reiki Practitioner, invested in working with people wanting real change and to live authentically.

For many years I worked in organisations supporting people through relationship issues, trauma and abuse, drug and alcohol issues and life's many challenges and could see how clients were only receiving partial care, limiting their healing and growth. So, I decided to create a space where I could bring together holistic healing therapies and practitioners for the Gold Coast community to access a complete care package, tuned to their specific needs. Despite the joy of running the Gold Coast practice and facilitating connecting clients with the right practitioner, I do love the energy and connection of working one-on-one with a client.

I am a heart-centred and intuitive practitioner, with a unique talent for connecting with clients and getting to the source of issues quickly, aiding the healing process early in therapy. I am an accomplished counsellor in the areas of direction and purpose, intimate relationships, complex trauma, spirituality and personal growth. My understanding of the complexities of life have been informed by my own lived experiences and working in family therapy, couple counselling, men's issues, drug and alcohol therapy, as well as personal development, coaching and body based healing work.

I am the proud father of three beautiful, strong and compassionate adult daughters, and share a great relationship with them and their partners. Outside of my practice I love to travel and be exposed to other cultures, spend time in nature bushwalking or camping, and get to the beach often.

Within my own journey of personal development and growth I found deep body therapy and energy clearing allowed me to release old negative energy and emotions. Finding the less baggage I carried the more present and connected I was with others, led me to training in Reiki in 2006 and KaHuna Bodywork in 2012. The journey of self-awareness and becoming more conscious is an elemental need in my vitality and meaning in life.

I will meet you exactly where you are at, and be present with you, so you can become conscious of what is holding you back from the life you want.

"I love my work, it is such a privilege to connect with a client and develop enough trust and safety for the client to really embrace their inner being, it is here we can transform their world together. I know how scary it feels when thinking of changing what is, toward living free of fear or burdens, I've been there myself, I understand and am here to support you all the way."
Services Information
Gold Coast Counselling
Gold Coast KaHuna Bodywork
Gold Coast Reiki & Pranic Healing
Fees and Bookings
Click here to book available services now
All our Team Members
Craig Miller
Sue Shepherd
Wendy Rice
Kristen Luby
Damask Bradshaw